Most paper companies provide an overwhelming array of options for your printing needs, offering a variety of weights, finishes, and colors. Your choice of paper certainly contributes significantly to your overall design. And, with a little education about these options, they can start to feel more exciting than overwhelming. Choosing the right paper means honestly considering your project's needs, and your overarching business goals.
First, Identify Your Needs: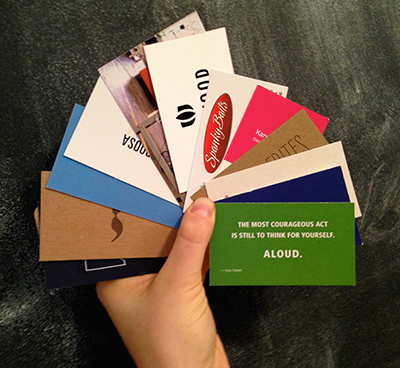 Before considering paper, consider the needs of your design. Ask yourself a few questions:
What form will the final product take? Are you creating a postcard, business card, flyer, newsletter, book, invitation, or announcement?
How durable do you need the final product to be?
What feeling do you want the product to give the individual receiving it? Should it be luxurious, solid, traditional, or purely functional (and cheap)?
What kind of budget restrictions are you working with?
Will your finished piece be mailed? If so, consider weight and postage.
After getting clear about your needs, consider your paper options.
Common Paper Types:
Are you designing stationary? Writing paper is probably your best choice. What about fliers? Bond paper is a thicker and sturdier option than writing paper. Cover paper is the approprite choice for business cards, report covers, brochures, postcards, etc… Translucent vellum provides see-through envelopes and overlays, and uncoated book paper is great for direct mails, newsletters, and catalogs. (Look at this article from Document Works for a great chart of paper options.)
Are you trying to wrap your head around paper weight?
Here are a few common weights:
20-24#  Standard weight paper
24-28#  Ordinary poster weight
80-100# Perferred weight for most business cards
Check on this article on Vector Tuts+ for more information on paper weight.
Pick A Finish:
Depending on your needs, you may want to consider the role of finish on your final design. Cockle is a texture similar to homemade paper, while an embossed finish provides a molded appearence on the paper's surface. A linen finish resembles linen cloth, and coated paper is often used for photogrpahy and illustrations. A smooth finish results from paper being passed through sets of rollers during the papermaking process, and is by far the most common finish.
Consider Color:
When deciding on a paper color for your printed documents, remember: an image (or type) that looks great on your back-lit monitor will not look the same on colored paper or card stock. The color of your paper will be combined with your art. In most cases, natural white gives a classic look to programs, invitations, and other printed materials. If you're looking to showcase more personality in your design, colors are a great option. Remember to test-print before committing to having the entire batch printed.
Check out more information from our sources:
Document Works– Picking the Perfect Paper.
Vector Tuts Plus– The Art of Choosing the Right Paper.
Kwik Kopy Printing– How To Choose The Right Paper.
CreativePro.com– Paper Tips: How to Choose the Right Paper.