With the dramatic shift towards digital marketing tools, the future of print comes into question. Will print continue to stay relevant? Will it evolve, and if so, how? Graphic Design USA posted the results of their 50th anniversary print survey, asking survey participants to share their best predictions for the future of print. The survey contains a wide variety of responses. Most, however, fit into these four categories:
#1 The future of print looks so bright!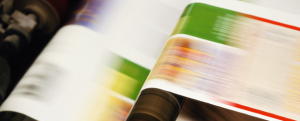 Survey participants predicted that print will continue to be rediscovered and reimagined, and that paper might even become the hottest commodity around. Print will continue to be respected for its ability to strengthen a brand. As designer Elizabeth Griswold shares, "The look, feel, smell, weight, and size of a printed piece all add to the overall brand impression and value — this is the true cherry on top."
#2 Print will evolve into fine art.
Rather than being primarily used as a marketing piece, print will evolve into more of a fine art piece. Paper will become a statement of luxury and legacy– being used in more personalized ways. When print is used for marketing, it will be for minimalist packaging and high-end, artistic marketing.
#3 All paper will eventually be digitized.
Some survey participants agreed that it's possible that print will be entirely digitized within fifty years. Designer Michelle R. Gawe writes, "I think it's entirely possible that in 50 years, the average person will have virtually no contact with paper … except as toilet tissue."
#4 Print and digital marketing will be increasingly used in tandom. 
Several survey participants insisted that print will survive if it continues to evolve as an accompaniment to digital media and marketing methods. Marketers will begin to accept that print can effectively be used in conjunction with social media campaigns, and will work to integrate both methods.
The fourth prediction is a common one among members of the print and design communities. QR codes and augmented reality are both examples of collaboration between print and digital media. A recent article on WhatTheyThink? shares the story of a September print edition of the Toronto Star, which contained one possible approach to integrating print and digital media: an interractive experience featuring augmented reality via a phone app called Layar. Featured throughout the paper were scanable "hot spots" containing video or other interractive (non-print based) content, only accessible through the Layar app. You can check out a short video demo of this augmented reality newspaper over here.
Graphics Canada– Canada's largest printing show– takes place later this week in Toronto, and is including a brand new Cross Media Conference. The emphasis is on print working in tandem with the digital. The conference is just one more indicator that the printing world is thinking ahead to the future, and putting energy towards evolution and new ideas.
Find Out More From Our Sources:
GD USA | 50th Anniversary Print Survey
WhatTheyThink? | Graphics Canada Marks Its 50th Anniversary
Gem Webb | Layar app demo as used in the Toronto Star